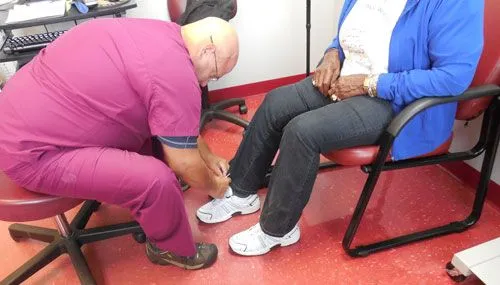 A certified pedorthist is a health care professional that can work with a podiatrist or orthopedist to promote and assure the fitting of lower extremity appliances including but not limited to leg braces, orthotics, and shoes. Certified pedorthist is a health professional educated and trained to manage comprehensive patient care. Pedorthists are certified to fit, fabricate, adjust or modify lower extremity devices. Pedorthist consultations are with patients based on a referral from a prescribing healthcare professional such as a family physician, and are part of integrated members of the health care team.
Most of the time a pedorthist works alongside a podiatrist in helping to alleviate painful or debilitating conditions of the lower extremity, by accommodating the patient with properly fitting shoes or orthosis. Pedorthists are able to custom make many appliances for any foot deformities that may be present with the patient. Pedorthists are able to help re-align anatomical structures, redistribute external and internal forces that the patient may be experiencing, improve balance control, control of biomechanical function, accommodate circulatory special requirements, and enhancement of the actions or limbs compromised as a result of accident, congenital deformity , neural condition, or disease.
Pedorthists are a vital part of a podiatric/orthopedic practice and should be utilized by the doctor when the patients foot deformities are in need of it. Several severe kinds of foot deformities pedorthists can help treat are but not limited to, congenital or acquired, such as severe hammer toe s, club foot , pes cavus, or pes cavus caused by a musculoskeletal imbalance/birth defect, tarsal tunnel syndrome, dropfoot, muscle weakness from progressive diseases such as multiple sclerosis, ALS, neuromuscular impairments in disabled children/adults from cerebral palsy, or a lower extremity limb that has been affected by a stroke.
A podiatrist is the only person that is trained in a specialized field in medicine for anything concerning the lower extremity, foot and ankle, that is why it is vital for you to visit your podiatrist if there are any problems concerning your feet. Dr. Theall's office at Gentle Touch Foot Care is a unique experience because of his close relationship with a pedorthist that works in office and visits frequently for all his patients in need of assistance with their lower extremity appliances. If there are any other questions feel free to contact Dr. Theall's Gentle Touch Foot Care office for all your foot and ankle needs and concerns at 973 673-3668 . Remember to always support your feet and they will carry you everywhere!!!