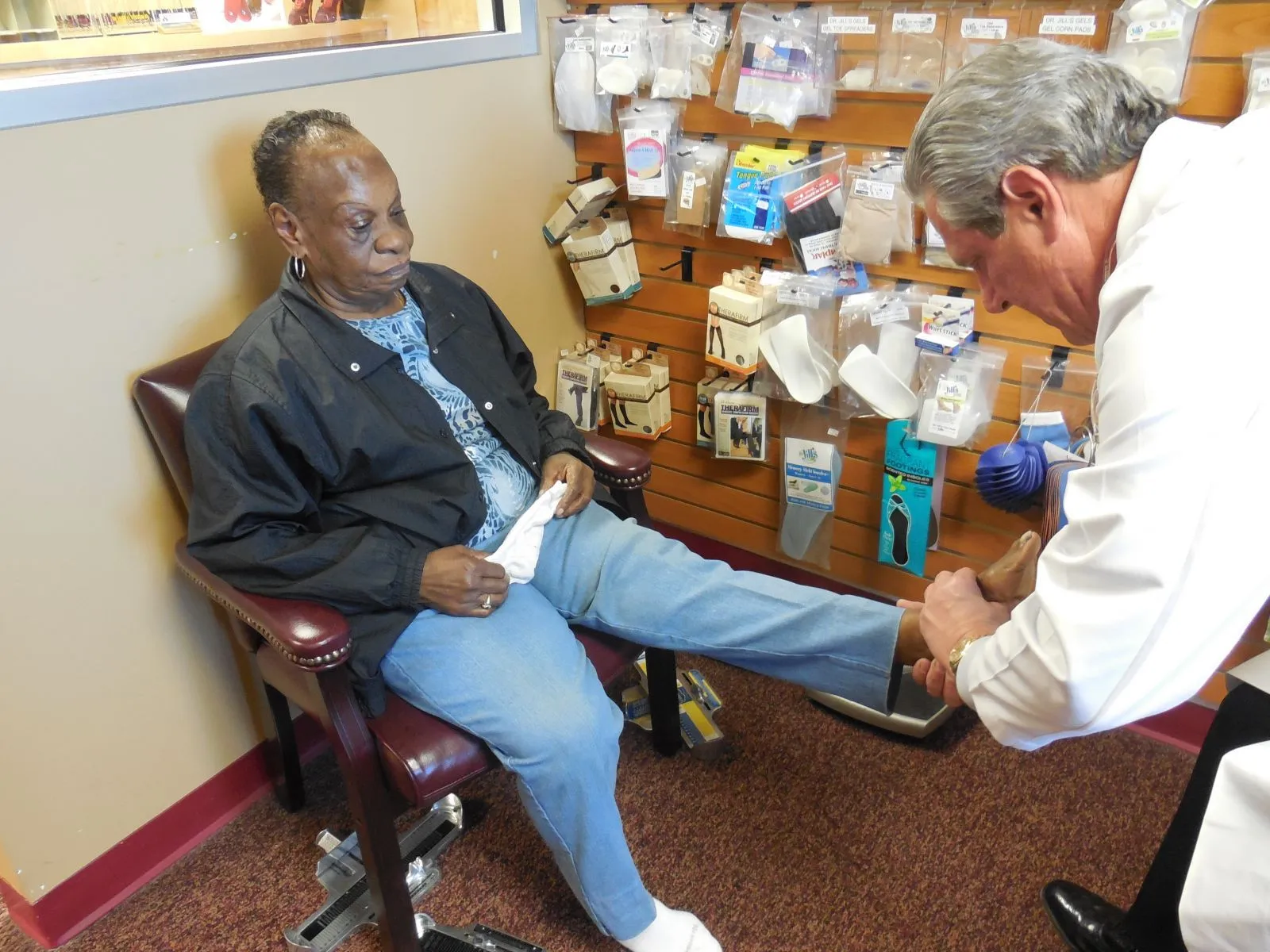 Fall Prevention Exams
Our office in East Orange, New Jersey provides a thorough evaluation of patient's lower extremity function including gait exam to determine balance and stability.
Geriatric foot care, or special care and services provided for the aging population, make up a large population the come to see the podiatrist. Patients who are in the geriatric population need to take extra care of their health especially their foot health. Older adults number over 25 million in the U.S. and are expected to reach 80 million by 2050. The aging population may not be able to care for themselves as easily as they did in their youth, and they should seek the care and hospitality of professional to take care and evaluate their foot health on a regular basis. This may occur from balance instability, weakened muscles that may cause you to fall (see our FALL PREVENTION section under "What We Treat" for more information), fungal nails (see our FUNGAL NAILS section under "What We Treat" for more information), complications from diabetes, and arthritis just to name a few. At our office in East Orange, New Jersey, Gentle Touch Foot Care will provide a thorough evaluation of patient's lower extremity function including gait exam to determine balance and stability and overall health of their feet.
To assess an aging person's lower extremity function, it is vital to understand that as one ages our muscles will naturally weaken, our bones will become arthritic, and our normal body functions will slow down. As one ages, one becomes slower in cognitive processing, postural reaction, and has decreased muscle strength. In diabetics, this effect is amplified greatly. Falls in diabetics are frequent, and include neuropathy (sometimes in a vicious cycle where neuropathy will worsen over time). Diabetics are encouraged to attend exercise sessions to help improve function. Doing exercise sessions of balance/posture components (stretches, leg/lower back, and ab exercises) and resistance training (strength exercises with weights) leads to improved joint proprioception along with increased hamstring/quad strength and ultimately leading to decreased chances one would fall.
The Truth About Falls
Postural stability with ankle support prevent falls
Falls account for 1/3 of deaths in people 65+
People walking in the house with socks on are 11x more likely to fall than with proper shoes.
Measurements, x-rays, and gait evaluation are some of the ways that Dr. Theall will be able to treat you if you are one of our aging patients. Our staff will help to coordinate scheduling of physical therapy and provide assistive devices such as canes, walkers, and custom lightweight ankle braces as needed to prevent devastating falls. Assessment of arthritis for each patient is always done on an individual basis. Each patient is different and requires special care and attention to be taken to their foot complaints.
Patients with the following problems can be helped!
Muscle weakness/dropfoot
Arthritis of feet and ankles
Abnormal walking patterns
Pain in ankle or foot joints
Dr. Theall will be able to acquire knowledge and awareness about your foot health to shape the older adult's response to illness and the health care system. The goal for future medical treatment of our aging population is to not just increase the lifespan but the "healthspan" of older population. We want our patients to maintain full function and live active lives in home and communities. Feel free to call our office today for yourself or for your family member that may be in the geriatric population to schedule an appointment with Dr. Bruce Theall.
For more information, contact our East Orange office at 973-673-FOOT (3668) .