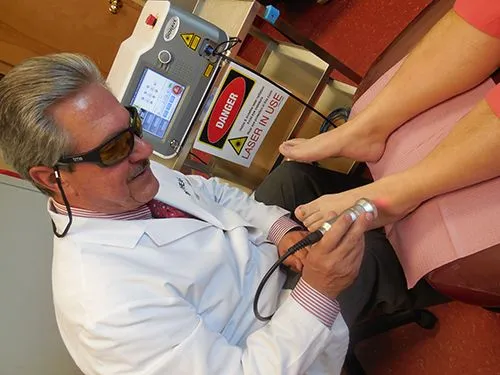 Diowave Laser for pain relief and management:
The DioWave laser had been in use for over 30 years in treating increasing pain. It has been shown to help heal damaged tissue. FDA clearance was granted over 10 years ago and laser therapy is now being used extensively in the United States. There have been over a hundred scientific controlled studies documenting the effectiveness of laser treatment. Laser therapy has been known to treat with favorable outcomes with conditions such as arthritis, nerve pain, inflammation, bone spurs, tenosynovitis, herniated discs, tendinosis & tendinitis, stress, fractures, shin splints, muscle strains, joint sprains, and post-operative healing after surgery. Achilles tendinitis and plantar fasciitis are the two most common foot and ankle conditions helped with laser therapy.
How does the laser work?
The laser infrared light interacts with tissues to increase the transport of nutrients through the cell membranes. This helps to initiate the release of nitric oxide that leads to multiple beneficial effects in increasing cell function and health. Damaged tissues are flooded with energy photons, which increase the blood flow and bring more oxygen to help the cells recover. This is a powerful, non-addictive, and side-effect free form of pain management. Laser therapy will decreases inflammation and scar tissue formation and allow for fast recovery times for patients seeking therapeutic treatment. Laser therapy can also increase the rate in which wounds can heal, ideally cutting wound healing time down dramatically.
Research has shown that DioWave Laser Therapy targets specific tissues to increase enzyme production at a cellular level while using high power lasers. These cells are able to increase production and thus greater cellular energy is used to decrease pain, inflammation, scar tissue, increase cellular metabolism, improve bloodflow, and accelerated healing of wound tissue.
Painless noninvasive relief:
Laser therapy is a noninvasive treatment where the patient will feel only a mild warming sensation as the leg, ankle, and foot are treated. Muscle tension and tightness is reduced increasing the range of motion and providing improvement even with just one treatment.
How many treatments are necessary?
Acute conditions can respond generally in five to six treatments. Conditions that have been present for a longer time may take longer. Every person is different and healing time varies due to the person and their individual condition.
Are there any side effects to laser treatment?
There have been almost no side effects reported in the literature throughout the world after 30 years of laser therapy. The application of gentle soothing warmth is what people will experience and many people find it very relaxing as treatment is given. Laser treatment is another novelty treatment strategy for achilles tendinitis and plantar fasciitis. An advantage to using laser treatment is the ability to have good functional and cosmetic outcomes and to have the patient return to normal daily function fast and painless.
The DioWave Laser Therapy System is a therapeutic solution that is state-of-the-art in technology and application. This laser system is utilized by many medical specialties and Dr. Theall has more than 30 years experience in treating podiatric conditions and wants to bring this very safe, effective laser treatment to his own patients.
If you are interested to see if you are a candidate to received DioWave Laser Therapy, feel free to come to Dr. Theall's office, Gentle Touch Foot Care for a full comprehensive and thorough evaluation to discuss your foot health.
For more information, contact our East Orange office at 973-673-FOOT (3668) .