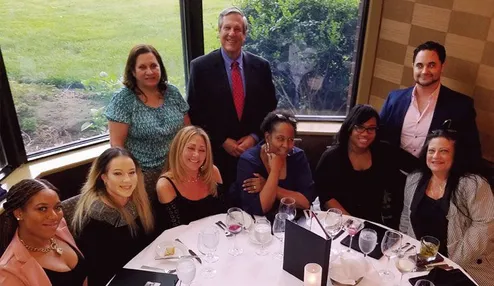 As of April 2008, Gentle Touch Foot Care moved to a newly designed suite (#301), in the Essex Valley Medical Arts Building. This page provides you with practical information about our office. It includes our office location with a map and directions, hours, appointment scheduling, insurance acceptance and billing policies.
Directions
The office is located at 310 Central Avenue Suite 301, in East Orange on the corner of Central and Arlington Avenues. You can get complete directions by going to the New Patient Page .
Transportation Options
Logisticare- 866 527-9933
Access Link- 973 275-5555
East Orange Senior Services- 973 395-5858
Essex County Transportation- 866 208-1307 (24 HR Notice)
NJ Transit Office of Aging- 973 618-1280
Jacobs Taxi Service- 973 673-5900
Reliable Taxi Service- 973 672-9488
*Each Company has its own rules and regulations, Please call in advance to make arrangements*
Parking
A large secured lot for the Essex Valley Medical Arts Building is provided for patient parking with the entrance on Arlington Avenue.
Appointments
To set up an appointment please call our office during regular office hours, or leave a message on our voicemail after hours and the receptionist will contact you promptly. You may also request an appointment online by clicking here .
Office Policies Regarding Insurance
It is important to provide us with all personal and insurance information. We will bill your insurance, but as the patient you are ultimately responsible for all the doctor's fees not covered by your insurance plan.
If you do not have insurance, or if the doctor does not accept your plan the minimun initial visit is $115. Subsequent visits are usually $70. The office accepts cash, check, or credit card for payment, as well as Care Credit
Managed Care Plans (HMO's)
You are responsible for obtaining and bringing referrals at the time service is rendered if they are required by your insurance plan.
You are responsible for any co-pays at the time your treatment is rendered.
If you do not have a referral for a visit, you are responsible for full payment at the time of service or you may reschedule for another day.
Primary care physicians have indicated that they cannot be called with a patient in the office for a referral for that particular visit. Referrals must be obtained before your visit to our office. Primary care physicians often need several days to provide you with a referral.