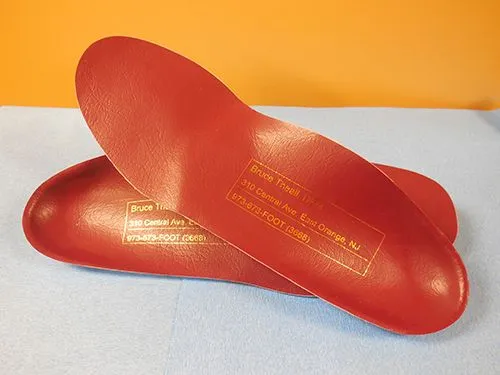 Orthotics are devices that are placed into shoes in order to correct abnormal walking patterns and to improve foot function. Many times orthotics are confused with arch supports, which are over-the-counter devices available in pharmacies and retail stores. These arch supports claim to improve foot pain, but they fall short in helping most people, because of the poor quality of materials used, and the fact that they are not individualized to a particular person or that person's problems.
Orthotics are useful in shoes like eyeglasses are for people's vision. They help correct abnormalities and allow people to function in a better manner. This often helps to relieve not only foot pain, but leg, knee, hip, and back pain as well because once the foundation (The foot and ankle) are out of alignment, it can throw off the whole building.
New Jersey podiatrist Dr. Bruce Theall has spent many years working and concentrating his practice in East Orange on orthotic therapy. When a patient comes in, the first part of the treatment is a complete biomechanical examination to evaluate all of the bones, joints, muscles, and tendons of the feet, ankles, and legs. Once the examination is complete, x-rays are frequently performed to further determine any skeletal abnormalities that can be contributing to the patient's problems. Computerized foot scanning as well as gait analysis is used as well to get a complete picture of the patient's walking pattern and foot and ankle function.
There are many types of orthotics and materials for orthotics that are all designed depending on the problem and the patient's activity level and age.
Orthotics can be fabricated for a variety of conditions such as, hallux limitus, hallux valgus (bunions), metatarsalgia, neuroma, lateral ankle instability, posterior tibial tendon dysfunction (PTTD), and many more.
RIGID ORTHOTICS:
These are designed to control foot function and are primarily used in walking, casual and dress shoes. They are composed of a firmer material, such as a thermoplastic or carbon graphite in order to beter control abnormal foot motion. While these are made out of a rigid material when they are fit properly to the patient's foot type and complaints, they are extremely comfortable and are the most effective type of orthotic.
SOFT ORTHOTICS
These are often made for our elderly patients and diabetic patients to absorb shock and increase balance as well as to take pressure off of painful areas on the bottom of the feet. They are very effective for arthritic patients and patients with severe foot deformities that cannot tolerate a more rigid controlling type of orthotic. Multiple materials are made so as to make them comfortable yet functional in helping to take pressure off of different parts of the feet.
If you need an orthotic for a specific podiatric medical condition or if you are an athlete looking for a customized fit for you, then call or come to the office of Dr. Theall at Gentle Touch Foot Care. He will be able to provide you with the proper treatment and evaluation your foot and ankle biomechanics for the best custom fit orthotic for you. Orthotics are made after the thorough examination by Dr. Theall from a plaster impression of the patient's foot while the foot is held in the ideal walking position aligned with the ankle and leg.
For more information, contact our East Orange office at 973-673-FOOT (3668) .