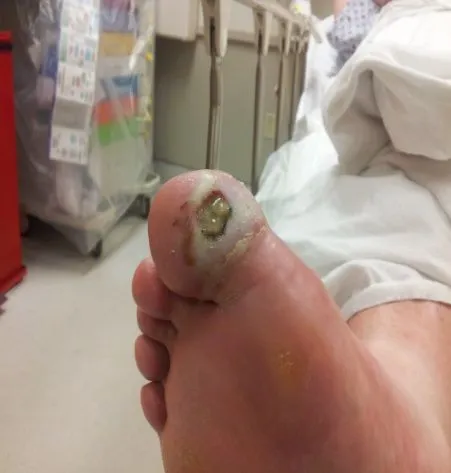 Diabetes is becoming more and more common in the United States due to the obesity epidemic. In fact, the American Diabetes Association estimates that more than 12 million people are suffering with diabetes with many more not even being diagnosed.
A common problem that your podiatrist deals with is wounds caused by complications of diabetes. Diabetics should be aware of the dangers of ulcerations for three important reasons:
Poor circulation – Loss of blood flow can make healing of any diabetic foot ulcerations difficult.
Neuropathy – Loss of sensation in your feet due to diabetes can make noticing any problems very hard to do.
Increased rate of infection – The previous two points create an environment ideal for bacterial infection which can fester and cause hospitalization, amputation and even death in some severe cases.
Diabetic foot ulcers are one of the most common problems affecting diabetics due to the complications just mentiones. Additionally, ulcerations are becoming a very common cause of hospital visits. In some extreme cases it can lead to a loss of a toe or even a whole leg. Once an ulceration is treated surgically, the patient will likely need an extended course of IV antibiotics. This can become costly and inconvenient over time, affect the patient and the people that depend on him or her.  It can cost roughly $10,000-$20,000 each time a diabetic foot ulcer is treated according to e American Podiatric Medical Association.
The absolute best way to treat ulcerations in your feet is to prevent them from happening in the first place. Here are a few things you can do at home:
Take care of your diabetes . Work with your health care team to keep your blood glucose in your target range.
Check your feet every day . Look at your bare feet for red spots, cuts, swelling, and blisters. If you cannot see the bottoms of your feet, use a mirror or ask someone for help.
Be more active . Plan your physical activity program with your health team.
Ask your doctor about Medicare coverage for special shoes.
Wash your feet every day . Dry them carefully, especially between the toes.
Keep your skin soft and smooth. Rub a thin coat of skin lotion over the tops and bottoms of your feet, but not between your toes. Read more about skin care.
If you can see and reach your toenails, trim them when needed. Trim your toenails straight across and file the edges with an emery board or nail file.
Wear shoes and socks at all times . Never walk barefoot. Wear comfortable shoes that fit well and protect your feet. Check inside your shoes before wearing them. Make sure the lining is smooth and there are no objects inside.
Protect your feet from hot and cold . Wear shoes at the beach or on hot pavement. Don't put your feet into hot water. Test water before putting your feet in it just as you would before bathing a baby. Never use hot water bottles, heating pads, or electric blankets. You can burn your feet without realizing it.
Keep blood flowing to your feet . Put your feet up when sitting. Wiggle your toes and move your ankles up and down for 5 minutes, two (2) or three (3) times a day. Don't cross your legs for long periods of time. Quit smoking, not only will it help with your overall health, but smoking can severely limit blood flow to your feet.
Get started now. Begin taking good care of your feet today. Set a time every day to check your feet.
Simply doing the above while keeping your blood glucose within a reasonable range will prevent many diabetic ulcerations from happening in the first place. Here at Gentle Touch Foot Care, Dr. Theall and Dr. Saleh are trained in the latest technology for healing of wounds. We believe in education before amputation, we use many wound products, most notably graft and topical treatment for diabetic ulcerations. If you do have a wound, it is important to keep up with offloading it and keeping it clear of infection so that surgery will not be necessary.
A podiatrist is the only person that is trained in a specialized field in medicine for anything concerning the lower extremity, foot and ankle, that's why it is important for you to visit your podiatrist if there are any problems concerning your feet. In the case of diabetic foot care it is always good to get it detected and dealt with before it affects your quality of life.  By allowing your podiatrist at Gentle Touch Foot Care to check your feet regularly, it could save you from getting ulcerations, complications and avoid the need for surgery. If there you have any other questions feel free to contact Dr. Theall's and Dr. Saleh's Gentle Touch Foot Care office for all your foot and ankle needs and concerns at 973-673-FOOT (3668) .